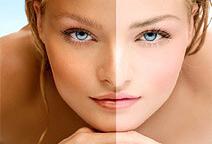 All spa Mbiospa treatments include the access to the pool and fitness center (saltwater pool, fitness center, sauna, jacuzzi).
We use a spray to achieve your tan in less than 15 minutes that will last 5 to 7 days, depending on your skin type. You can opt for a spray tan complete the half of the body (half body), your face or customize the places you want.
Forget the UV rays and ultraviolet tanning salon or sunburn … choose 100% natural products and immediacy!
FULL BODY
With Exfoliation
60 min:
$85
HALF BODY
With Exfoliation
30 min:
$65