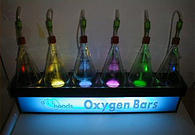 It is recommended to do a session of oxygen from 10 to 20 minutes* when one feels the need (fatigue, stress, need to relax, breathing difficulties, poor concentration, recovery before or after sport).
The benefits of oxygen :
Without going overboard, breathe oxygen gives your body strength, vitality, dynamism and allows you to stay focused during the hours following your session.
In addition, oxygen has a beneficial effect in the long run your health and even your state of mind.
Increases concentration, alertness and memory.
Strengthens the nervous system and the immune system.
Acts as de-stressing and calm your mind.
Provides a natural remedy against headaches, migraines and Hangover.
Relieves temporary discomfort related to the altitude and reduces the effects of jet lag.
Enhances physical endurance and muscle recovery.
Reduces chronic fatigue syndrome and helps restore sleep.
Free when you take à la carte service with regular price at Mbiospa.
Also available for your events, cocktail parties, trade show, etc.. Contact us to find our rental rates (514) 286-1364