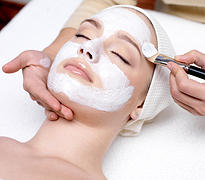 Our treatments are made with PHYT'S, CLAYTON SHAGAL, ​​certified cosmébio and having demonstrated their clinical effectiveness
---
EYES BIOLIFT TREATMENT
30 min: $ 59
This peel-off mask conditioner targets dark eye circles and puffiness, for a fresh and revitalizing feel.
---
FACIAL EXPRESS
35 min: $ 69
Instant Glow Facial.
---
HYDRATING COLLAGEN & GOLD SKINCARE FACIAL
30 min: $ 69
For all skin types (oily, combination or dry).hydrate and nourish the skin especialy winter time
---
TEEN FACIAL (UNDER 17)
60 min: $ 89
Skin Balance for oily or comedogenic, dilated pores.
---
SENSITIVE SKIN FACIAL
60 min: $ 95
For sensitive skins, rosacea, dry skin, redness sensitive
---
JET-LAG AQUA
60 min: $ 95
Ultra Hydrating, moisture boost, for skins that need plumping/smoothing. Great for fine lines, dehydrated & dry skins.Ideal after a flight.
---
OIL SKIN AND ACNE
75 min: $ 119
For oily or combination skin comedogenic,enlarged pores. Eliminating & anti-clogging facial for skins with dead skin build up & blackheads – balancing, detoxing, cleansing.
---
ANTI AGE MULTI-VITA
90 min: $ 129
Multi Vitamin cocktail facial, skins that are aging, fine lines and lacking tone. A speedy cocktail- pick-me-up with long lasting results. – lifting, firming, moisturising, vitamin & mineral enriched regenerating.
---